The face of revolution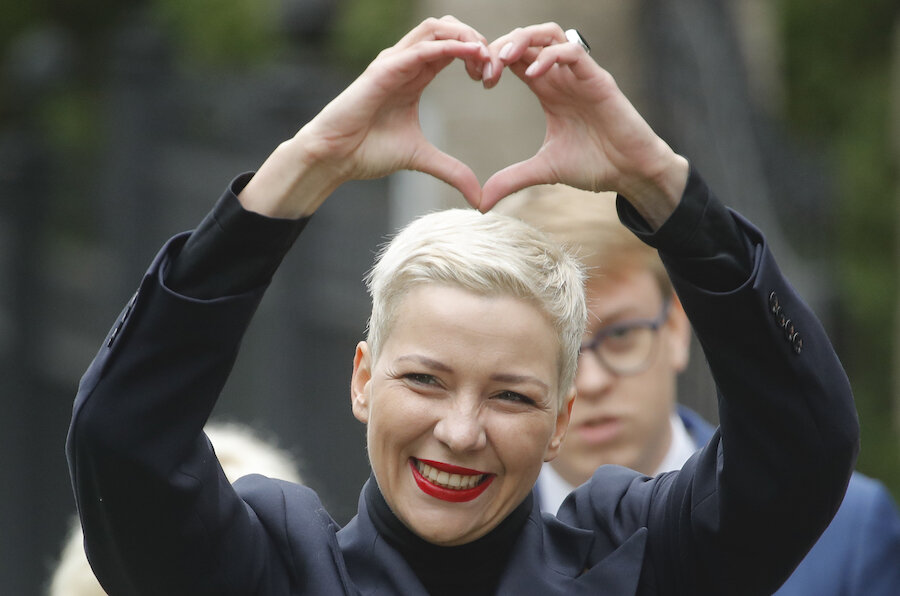 This is Maria Kolesnikova, one of the brave Belarusians protesting against the dictatorship of Alexander Lukashenko, who for nearly the whole time their country has been free of the Soviet Union has bribed and bullied and faked elections to maintain his grip on office. Russia helps him along, because the Russian-speaking Belarus is one of its few ex-dominions that are still willing to play along with Moscow. Unlike Ukraine and and rest of Eastern Europe, it still values its ties with its former masters.
The Christian Science Monitor has an interesting commentary on Ms Kolesnikova, arguing that the issue in a good revolution is dignity. Lukashenko (and Putin and Xi and Maduro and and and ...) strips people of their dignity, while Ms Kolesnikova embodies it. I like that notion. Recently she was kidnapped, driven to the Ukrainian border, and told to step across the line. Instead, she tore up her passport so the Ukrainians would refuse her entry. She jumped out of the kidnap vehicle's window and walked back to Belarusian territory with her head held high. This wouldn't have worked in the old Soviet Union, and it may not continue to work in Belarus, but she got away with it for now.
When I came back from Europe long ago, I rented a room in the South End of Boston for a dollar a night and set out to be a free-lance writer. Every afternoon I'd walk down to the Mom & Pop store at the corner and pay a dime for a bag of peanuts and a copy of the Monitor. (I also wrote for it from time to time.) I'd come back, sit on the stoop, eat the peanuts, and catch up on world news. It was my favorite newspaper then, but like so many newspapers it is no longer for sale every afternoon. But I recently subscribed to the online edition ($11 a month!). You can read three articles a month without subscribing, and the Covid 19 coverage is always free. I like the Monitor. Like Ms Lolesnikova, it has a different slant on things, and that's to be valued in this time when the American media seems to exist in an echo chamber.